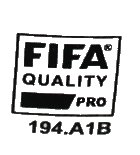 DF is the direct owner of a FIFA Pro Quality licence/stamp and there are few companies worldwide who have this award. It means Diamond is among world's elite companies who manufacture footballs. FIFA ensure that the standards they set are constantly enforced and no corners are cut in producing Diamond footballs.
FIFA have recently changed the grading for their top of the range footballs and new standards have been set. The worlds top footballs can carry the new stamp called FIFA PRO. Diamonds new EDGE ball passed this new test first time with ease. This was only possible due to the expertise of Diamonds workforce, and the superior quality of raw materials Diamond uses in the manufacturing process.
There are seven tests for FIFA Pro Quality Standard Footballs the highest level of FIFA certification:
Tests are implemented in the following conditions:
Inflating - the footballs are inflated with compressed air to a pressure of 0.8 ± 0.005 bar.
Conditioning - the footballs are conditioned for at least 24 hours at a standard temperature of 20°C ± 2°C and a relative humidity of 65% ± 5%.
Test Criteria for FIFA Quality Pro for Size 5 Outdoor Football - DIAMOND EDGE MATCH
Test Type/Certificate Type
>Test 1
Consistent Circumference
68.5 - 69.5 cm
68.0 - 70.0 cm
68.0 - 70.0 cm
>Test 2
Permanent Roundness
max 1.5 %
max 1.8 %
max 1.8 %
>Test 3A
Uniform Rebound @ 20°C
135 - 155 cm
125 - 155 cm
125 - 155 cm
>Test 3B
Uniform Rebound @ 5°C
min 125 cm
min 115 cm
min 115 cm
>Test 4
Water Absorbtion
max 10% of the original weight
max 10% of the original weight
max 10% of the original weight
>Test 5
Perfect Weight
420 - 445 grams
410 - 450 grams
410 - 450 grams
>Test 6
Minimal Pressure Loss
max 20%
max 25%
max 25%
>Test 7
Shape and Size Retention
(7a)
Increase in Circumference
max 1.5cm
max 1.5cm
N/A
(7b)
Deviation on Sphericity
max 1.8%
max 1.8%
N/A
(7c)
Change of pressure
max 0.1 bar
max 0.1 bar
N/A
Buy Online
Circumference (TEST 1) and Roundness (TEST 2) are measured in 45000 points on the surface of the ball, Rebound (TEST 3) is tested in two different temperature and humidity conditions (see table for details) over the cycle of 10 drops from the high of 2 meters on a steel plate. During Water Absorbtion (TEST 5) the ball is turned and squeezed 250 times in a tank full of water and is not allow to take more water than 10% of the original weight. Minimal Pressure Loss (TEST 6) is conducted over 3 days period. Shape and Size Retention (TEST 7) is a high velocity (50km/h) "kick" test with 2000 "kicks" cycle. On the end of the cycle three measurments are taken to check: increase in circumference, deviation on sphericity, change of pressure (check tables for passing standards).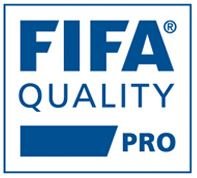 When you see the FIFA QUALITY PRO Logo on a football you know that ball has passed the same test as any other ball with the same logo. Therefore do not be alarmed when you see the price of a Diamond Edge football. Some companies charge far too much for their products!!!