Yes, we know for sure there was a proper shopping spree this summer as reported by mainstream media over the last 24hrs. We have now confirmed over £850mln of deals, and there are further deals undisclosed which some papers report top up the shopping bill to something around £1.1bn. Even first timers like Cherries managed to squeeze £23mln for four players (Tyrone Mings, Max Gradel, Glenn Murray, Lee Tomlin)! Try to imagine the difference year on year - their accountants are perhaps a bit busier this year ;-).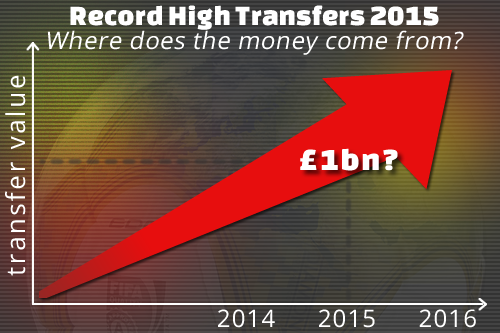 This summer we also hit the record high price for a teenager in the history thanks to an unknown name - Anthony Martial (France's U21 team) who was exchanged between Monaco and Manchester for £36m. For almost three decades now we know broadcasting contracts stay behind this massive money exchanges. BT Sport for the second time was competing in auctions for TV Rights earlier this year. As competition between TV stations is getting stronger for the live broadcasts, these contracts bring Premier League record high profits.
Earlier this year we reported on the auction output for the TV rights
which ended with 71% higher revenue generated from this channel. This auction put the cost of broadcasting Premier League matches between 2016-19 to the record high £10.19m per match with 168 live matches broadcasted overall by both TV stations. But where physically this money are coming? - Not from SkySport or BT Sport but from - us - football fans - who pay for SkySport or BT Sports packages. Also from advertising deals. Companies like car manufacturers, banks that are fighting for various advertising spots and opportunities to present their brands to us. And why they fight for these spots - because they know we watch! Taking into account some of the games are not that great to deserve 90 minutes of our time ;-) maybe we could hook up some grassroots investment money directly to the contracts or matches? How about the "Grassroots fee" - 5% levy on all transfers? Could It be directly going to some list of submitted to the Premier League local projects? This way the summer transfer window alone would bring down to the local grassroots football £50m. That would be enough to build some artificial pitches around the country and hire
unwanted David De Gea
to train the young goalkeepers all year long! In February we were informed by Premiere League CEO about £56m investment in grassroots which now should be topped up to as far as we are concerned to at least £300m (
see more about Premier League pledges towards grassroots football
). However connecting this money for the young players directly with the big club contracts would make them perhaps more real. At this moment, they are abstractive sums of money which are more understood by investment specialists than sports fans.
What do you thing about rising gap between grassroots projects financed by shrinking local public budgets and comercialised profesional sports (we know this is not only problem in football)? Do you work with young players in deprived areas where £1000 makes a diffrence in grassroots club's existance? We want to hear from you @fitforfootball or on our Facebook page.