We are now a third of the way through the January transfer window and spending has been pretty tame compared to past seasons. It was only a couple years ago when Roman Abramovic bought Fernando Torres for £50 million- but the Spaniards time at Chelsea has not bought much personal success, although the club has enjoyed great glory in this time.
Below we look into whether spending big in the transfer window does really bring success.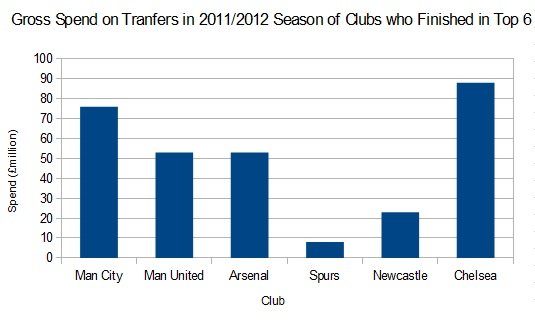 As you can see, Chelsea (who finished the lowest in the league) actually spent the most on transfers last season. The Blues spent £88 million on buys such as David Luiz (pictured with Diamond Football products) and Juan Mata. Despite their poor league form, Chelsea's season could be recognised as the most successful in their entire history- they won both the FA Cup and Champions League in the 2011/2012 season.
Premier League champions, Manchester City were close behind Chelsea on the expenditure front- they spent £76 million on transfers. Once again proving that spending big equals success.
Interestingly, Manchester United and Arsenal who finished second and third respectively, spent exactly the same amount last season. Both clubs spent £53 million on transfers- although much of Arsene Wenger's kitty was financed from the sale of Cesc Fabregas (£35 million) and Samir Nasri (£22 million). Ferguson's men were just pipped to the Championship by the neighbours on the last day of the season, despite spending significantly less.
The most shocking thing that this chart reveals is the small amount Tottenham Hotspurs spent, compared to their rivals. The North London club only spent £8 million on transfer- that is even dwarved by fifth place Newcastle who spent £23 million.
Chelsea spent eleven times as much as Spurs did and finished 2 places behind them. One could say, that Chelsea's success in Europe was mostly down to veteran players such as Didier Drogba and many of their new signings had little effect. So could this table prove that as long as you have a good team established already, you do not need to spend big in the transfer window?
What ever the answer, the transfer window remains one of the most interesting periods in football...
All statistics were gathered from www.transferleague.co.uk