Awaiting confirmation from FIFA regarding the exact times, broadcasting rights and venues we look into the USA experience in the Group of Death and beyond at the 2014 Brazil World Cup.
Within the next few weeks we will be producing World Cup pieces for our US, UK and Worldwide followers. As there's only a few months left till the World Cup kicks off in June we know you need as much information as possible, so we at Diamond have taken it upon ourselves to keep you filled in.
To begin with here is our USA Resource Center. The Center will keep you informed on everything going on for the USMNT (US Men's National Soccer Team) at the World Cup. We also have two PDFs, for the Group Stage and Knockout Stages of the World Cup available.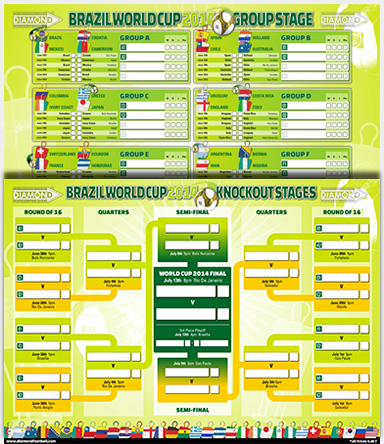 During the World Cup the USA will have to travel the most of any team during the group stages. Klinsmann isn't worried about that though after he commented that his team "Travel the most" for their clubs anyway. If the USA do progress through the group however, they will be facing either Belgium, Algeria, Russia or South Korea in the next round all of which will be tough opposition. Although they are in the "Group of Death" the USA have the likes of Dempsey and Jermaine Jones in their side and with the excitement surrounding the Brazil World Cup we see them rising to the occasion.
Fear Not UK and WorldWide Fans: Don't worry UK and Worldwide fans you're not left out there will be content coming very soon produced specifically for you.